For Stephanie Johnson, a yoga instructor at Perth's COMO Shambhala Urban Escape, the scent of sandalwood wafting through the doors of a yoga studio says 'welcome home'. "I love, love, love walking into a space that is burning an oil, especially sandalwood," she says. "When I can smell the incense from the street it sends a signal to my brain that I'm walking into a space of peace of calmness – my body already responds to it by relaxing and softening. It's like I'm coming home."
Aromatherapy has long been used to heal the body and soothe the mind. Now, savvy yoga instructors and energy healers are using essential oils to create a deeper connection to their practice – and give their students twice the benefits.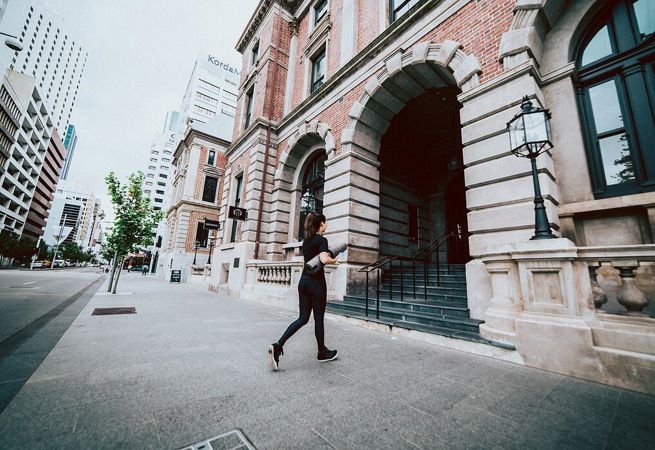 "The Sanskrit word yoga actually means to yoke together, to join together," says Suzanne R Banks, an aromatherapist and energy healer who counts Kylie Minogue and self-help guru Doreen Virtue as clients. "One does the practice of yoga and Ayurveda to bring the body, mind and spirit together to work as one unit. That's essentially what essentials oils do – they work in different ways to achieve the same outcome. Used together, they can be so powerful and really take yoga practice to a new level."
Like yoga, Indian sandalwood oil as therapy can be traced back to ancient India. But while yoga is as pervasive as bottled water – the go-to tonic for rushed modern life – Indian sandalwood oil has had a quieter resurgence. Its fabled properties – Cleopatra worshipped it! Tibetan monks meditated with it! – led to a furious scramble, with trees smuggled and pillaged until it teetered on the point of extinction. Only now, with Quintis protecting and nurturing 12,182 hectares of trees in Australia's pristine north, has pure breed Sandalwood Album – a sustainable, quality assured supply of Indian sandalwood (Santalum album) - re-entered the wellness market as a veritable player.
 "When I practice yoga, I am striving for a state of flow – a balance of strength and softness," says Johnson. "It's like this blissful balance, where time is not of the essence and there's this sense of unlimited potential. It's euphoric."  In yoga, the role of meditation is "huge. You definitely need the strength in the mind to develop softness and slow down, especially in a society where we're driven by tasks and to do-lists and to push."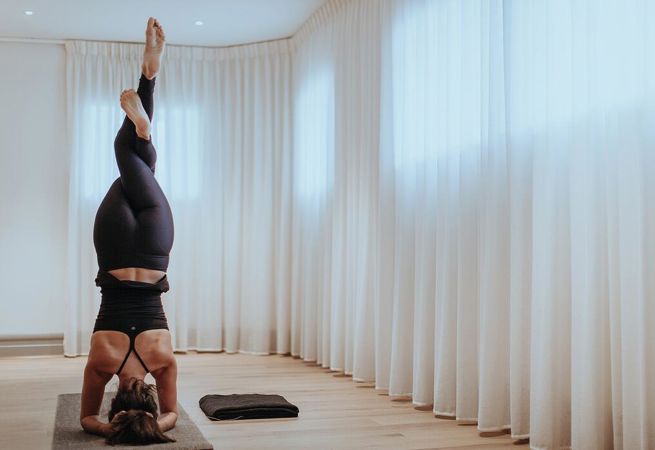 Indian sandalwood oil offers the intriguing dual benefit of increasing relaxation while promoting focus, suggesting it could be a powerful supplement for achieving this state of 'flow'. "There's nothing quite like Sandalwood Album in terms of its effects on the mind and the skin," says aromatherapist Robert Tisserand, who founded the leading Tisserand Institute and penned seminal tome The Art of Aromatherapy, "We know for sure it has a calming, sedative affect, with sedative constituents finding their way into the bloodstream in tiny amounts."
It also inhibits delta opioid receptors in the brain, which are linked to major depressive disorder. "This suggests the possibility of an anti-depressant, mood-uplifting effect – much like the desired effects of meditation," says Tisserand.
Beyond the science is a compelling spiritual history that makes the oil a natural complement to yoga and energy healing, says Banks. "You can delve into the chemical nature of why this works, but the best way for natural therapists to use oils is to look at its traditional uses. Indian sandalwood is really connected to deep spirituality, and it's been connected to Ayurvedic medicine and healing and practice for thousands of years."
She uses the oil to help her energy healing and reiki clients tap into a higher plane of consciousness "It works on this energetic field – almost as if the oil is dissolving and going onto a new level. It smooths out the chakras if they're out of balance."
Sandalwood's long romance with spirituality and meditation may also prime the brain to respond in a sort of Pavlovian fashion –like muscle memory for the olfactory nerve. "When we smell the oil and incense that has been used in the past to create a feeling happiness, your body automatically responds to it," says Johnson. "It can fast-track that feeling of calm." And in a time-pressed world, who wouldn't want to cut some corners?
Using sandalwood in your practice: 
Create an extra-restorative savasana by applying oil to the hands, and touching your students' shoulders and palms. "It's that beautiful space at the end of class," says Johnson. "When I smell a scent that resonates with me, it enables me to go a lot deeper."
Diffuse Sandalwood Album oil with another lighter oil to relax and de- stress during yoga and energy healing. "Sandalwood has a heavy quality, so it works really well with lighter oils like bergamot and frankincense," says Tisserand. Just avoid going overboard: "Less is more for a psychological affect."
Ground anxious clients by using Sandalwood Album oil in conjunction with reiki or massage. "If someone comes in for a treatment or energy balancing, they usually have something going on," explains Banks. "Because sandalwood comes from wood, it's immediately grounding and brings all the energy around your head to your feet and lower chakras."
Prime the body to relax outside the studio. "At home, I rub oil into my temples and palms as a way to prep my body before doing meditation or yoga," says Johnson. "It's like preparing ourselves to go to bed – we clean our teeth and put on our PJs. It stimulates a memory, a state – and our body responds."