Written by Deniz Ataman,
Independent Journalist 
Finding inspiration as a perfumer is a perpetual journey of navigating between one's imagination and their surrounding environment. Whether it's from writing, music, or even the soil from which a raw material grows, the perfumers' creative well is certainly an ongoing exploration between the materials and the nose—as was the process for the winners of the Sandalwood Reimagined competition, Jennifer Jambon and Fanny Ginolin.
Interviewing the two finalists for the Sandalwood Reimagined competition was a clear reminder of the perfumers' endless canvas of inspiration where any medium is subject to spark insight into a new olfactory story. Inspired by Quintis' ethically and sustainably produced Indian sandalwood (Santalum album), the competition was an opportunity for perfumers around the world to retell sandalwood's story for a global community. As creative and technically talented noses, Jambon and Ginolin both used the same ingredient—Quintis' natural Indian sandalwood oil—to tell two unique narratives of the incomparable, ancient botanical.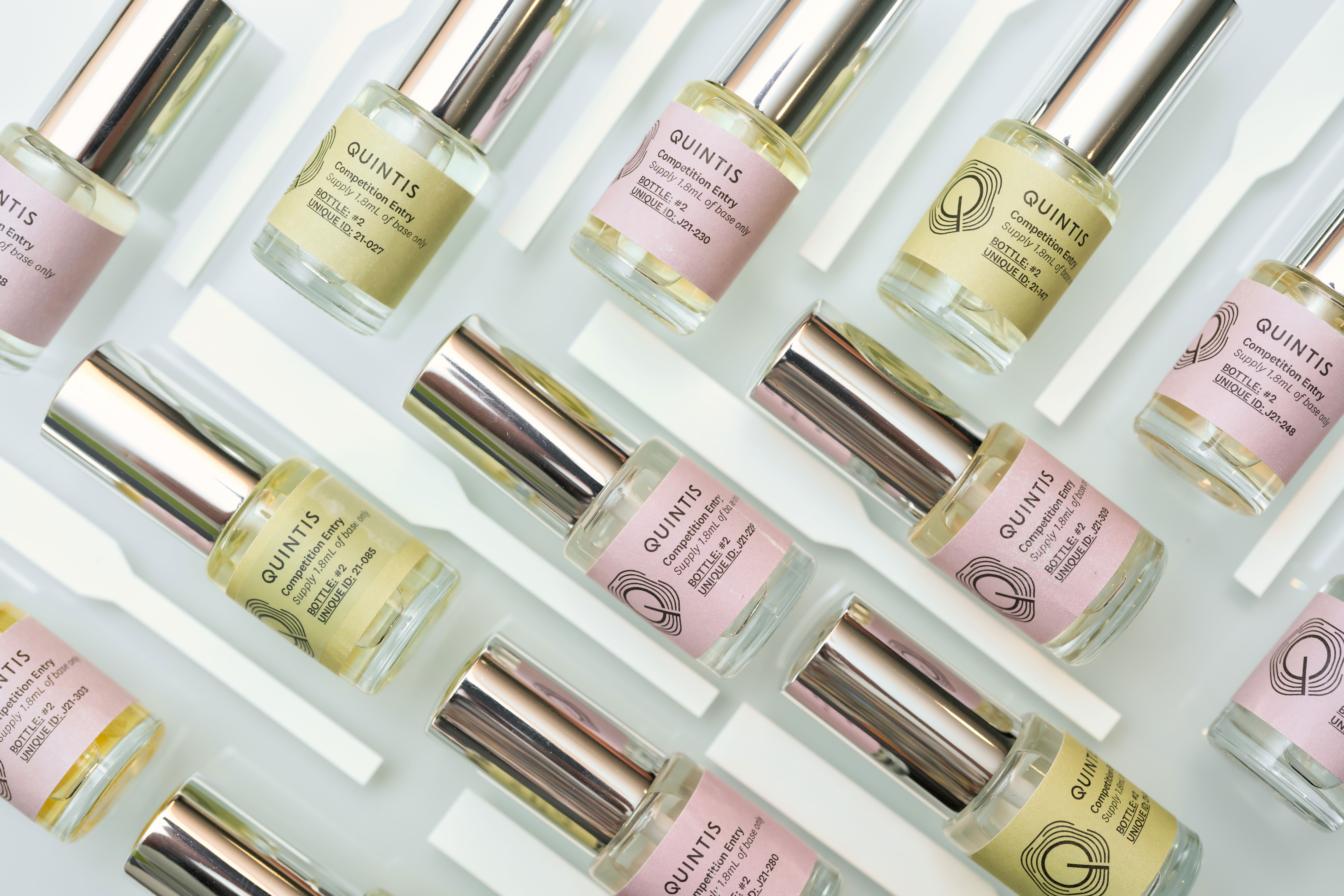 A competition about sustainable sandalwood
Over 300 entrants submitted their formulations to a panel of five judges who evaluated submissions over the course of six weeks. The objective of the brief was to create a genderless reinterpretation of the timeless Indian sandalwood, without traditional parameters such as consumer profiles or budget. The entrants were tasked with using a base of at least 1% of Quintis sandalwood oil while constructing the rest of the fragrance using only essential oils, aroma molecules, absolutes and resins. Through an extensive six-week blind judging process, the judges assessed each finalist fragrance for its technical elements such as blending, sillage and the harmonisation between the notes; as well as the creative interpretation of Quintis Indian sandalwood.
After arriving at a unanimous decision that considered technical skill and creativity, the judges chose 10 finalists whose fragrances were announced at Quintis' booth at SIMPPAR in Paris, France; while the finalists' fragrances were displayed during the World Perfumery Congress (WPC) in Miami, Florida for all three days of the event.
As the two winners, Jambon and Ginolin were presented with the Global Winner and Emerging Talent Winner, respectively, by Vince Kuczinski, President of the American Society of Perfumers and Sherri Sebastian, Vice President of the American Society of Perfumers on the final day of the WPC. Additionally, the winners were awarded a cash prize—Jambon was awarded $10,000 and Ginolin with $2,000.
We sat down with Jambon and Ginolin to learn more about their process of reimagining the iconic Indian sandalwood.

An Olfactory Exploration of Australia's Terrain
Inspired by the Australian landscape, Jambon's winning fragrance was a scented tour of her experience traveling to the sandalwood plantation when she won the Quintis fragrance competition for the first time in 2016. "When I first won the competition, the prize was to visit Australia," Jambon explained. It was particularly special for the perfumer as she was on maternity leave during her visit and was influenced by the emotional experience she shared with her then six-month old daughter. "When I visited, it was during harvest time. When they harvested the trees, the smell was amazing. I wanted to recreate that memory" she said. "I wanted to work with sandalwood and amber notes, but not too much, because at the same time I wanted green qualities and freshness. At first you don't think they will work together: green and amber with vanilla. Before I wouldn't have even tried. Now I try to challenge myself and see how I can harmonise these ingredients."
As a cross-category perfumer for Argeville's global market in France, Jambon's progression as a perfumer is a testament to her education and training. A graduate from the University of Le Havre in France, she received a Master's degree in flavour and perfume chemistry and later a postgraduate degree with distinction in perfumery at the renowned ISIPCA in Versailles. As a trainee for Firmenich, she worked in Switzerland, then began working for IFF in Ireland and later Chile to develop fragrances for the South American market. Afterwards, she moved back to Europe where she served as Molton Brown's in-house perfumer for eight years in London before returning home to France, equipped with a global sensibility for fragrance creation.
"When I visited, it was during harvest time. When they harvested the trees, the smell was amazing. I wanted to recreate that memory"
The unorthodox brief gave Jambon creative freedom to explore her olfactory skills without the traditional parameters she follows in a commercial setting. "I wanted to create a fragrance like a piece of art," she said. "It was quite different from the first time, as I had a proper memory of the place and imagined what it was like with the ingredients."
Though she was thousands of miles away from Australia when she crafted her winning fragrance, Jambon recreated her olfactory painting that highlighted sandalwood along with other accords representing the country's unique climate and landscape. "I started with sandalwood's creaminess, the woodiness and the ochre color," she explained. To give volume to the sandalwood accord with orris and powdery notes, Jambon added a light floral note with magnolia and mimosa. To recreate the landscape and the sandalwood trees, green notes added freshness to the formulation. For the base note, she included balsamic benzoin, olibanum, tonka bean and ambroxin for a longevity. Referencing Quintis' mission to produce sustainable and ethical sandalwood, Jambon used helional and canthoxal to give an ozonic effect.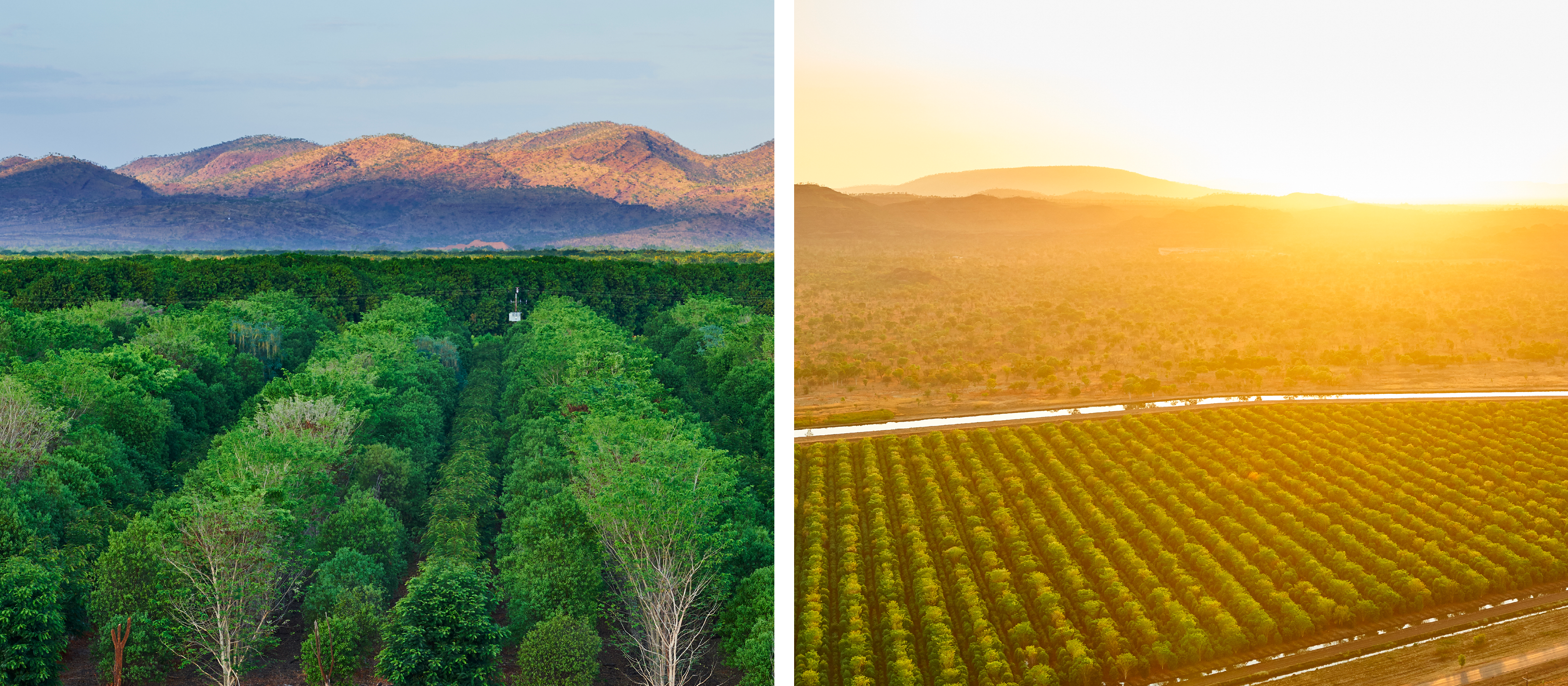 Along with her winning 2016 fragrance, Jambon was also the winner of the 2008 ICP Award for the prestigious French Society of Perfumers. Her style and process continue to evolve as she gains more skill and awareness as to how she constructs her formulas. When comparing her winning fragrance from this year and in 2016, she explained that the 2022 fragrance held more personality which correlated with her depth of experience as a professional perfumer. "I have more of an idea of what I want to create. It takes less trials and it's quicker to achieve. Before I was unsure of the quantity of each ingredient and how things will react in the formula."
Sandalwood's Origin Story
As a perfumer's assistant at Takasago's sample laboratory, Ginolin's burgeoning career proves she is an emerging talent in the industry. When formulating a fragrance, she turns to the written word to spark new ideas and wrote down her perceptions of sustainable sandalwood to initiate her process. "During my creative process, I always write and build my fragrance around these words," she explained.
Also a Le Havre graduate with a Master's in chemistry specialised in perfumery and a 2020 Grasse Institute of Perfumery graduate, this was Ginolin's second time winning a fragrance competition. In 2019, she showcased her skills to another jury of professionals where she cam second in the 2019 Corpo 35 competition sponsored by Firmenich.
To understand sandalwood's notes and facets, Ginolin spent days smelling the oil and reading about its Indian origins and its arrival to Australia. Due to poaching and overharvesting in India, Indian sandalwood was at risk of extinction. By planting and harvesting the oil in sustainable plantations in Australia, Quintis' initiatives helped replenish natural sandalwood allowing it to return to a global industry once again. It was an internal experience for Ginolin when developing her winning fragrance. "I wanted to be the sandalwood and make the journey from India to Australia. I started to imagine it in both countries. I noted the spices in India and imagined the boat, the ocean with sandalwood surrounding it. When it arrived in Australia, I referenced photos to imagine the feeling of seeing the vegetation and landscape, the dry earth in this new world."
"I wanted to be the sandalwood and make the journey from India to Australia. I started to imagine it in both countries. I noted the spices in India and imagined the boat, the ocean with sandalwood surrounding it. When it arrived in Australia, I referenced photos to imagine the feeling of seeing the vegetation and landscape, the dry earth in this new world."
Her synesthetic approach helped her design adventurous accords based on India's spice market and the crunchiness of Australia's terrain, with sandalwood at the center. The spicy accord referenced the colours and textures of cumin, cardamom, ginger, coriander, black pepper and pink pepper; while a fruity fig enhanced the milky and creamy facets of sandalwood that connected the top and base notes, and finally a marine and iodised facet symbolised the separation between the two countries.
"I didn't want classic sandalwood scents that were creamy and linear," she explained. "Rather, I wanted to put it in the center—even though sandalwood is complex and shy—and I wanted to make it vibrant. I also used a great number of spices and raw materials which can bring a gourmand effect, and instead I wanted to give it an airy effect."
In the wake of this global competition, perfumery is given a new perspective with interpreting sustainability and sandalwood together. Jambon and Ginolin's efforts, along with the finalists and entrants inspired the fragrance community to explore exciting possibilities for fragrance creation. Any perfumer can understand the intense process, both cerebral and technical, to finally arrive to a finished formula that expresses the ethereal nature of an olfactory encounter with relief and hopefully a sense of accomplishment.