We acknowledge the Traditional Custodians of the land on which we grow our plantations, the lands where our offices are located, and where our operations are situated. We pay respects to their Elders past and present, and respect Aboriginal and Torres Strait Islander peoples today.
Written by Deniz Ataman,
Independent Journalist
At 80 years young, Carol Pettersen is a living legend and protector of the Minuang dialect group of the Noongar nation. She grew up in the Gnowangerup mission from the south western part of Western Australia with her parents, aunt and uncle and 16 siblings. With nature as her classroom, she and her siblings learned about plant medicine passed down from her elders. Today, she continues to share the traditions that were taught to her. "The teaching was done in practice," she explained, "we knew what to look for because we were familiar with the seasons and we were taught to identify different plants."
Pettersen grew up in a large biracial family. Her mother was from the Noongar nation and her father a white Australian soldier who fought in World War II. One of 17 children, she and her siblings grew up in hiding in the Australian bush during the government's removal of Indigenous children in the early 1940's. While hiding out in the bush, she learned that the abundance of the natural world can provide medicine, food, clothing, tools and shelter.
Home to some of the world's most unique and diverse species of botanicals, Australia holds over 24,000 species of native plants, providing nourishment, protection and medicine for humans and animals alike. In the bush, nearly every part of a plant is used. "Plants are seen as food and they also provide medicine and the beautiful healing aromatherapy that goes with it. We know how to use the grasses, trees and wood to make baskets. We make tools for survival in hunting and gathering," she explained.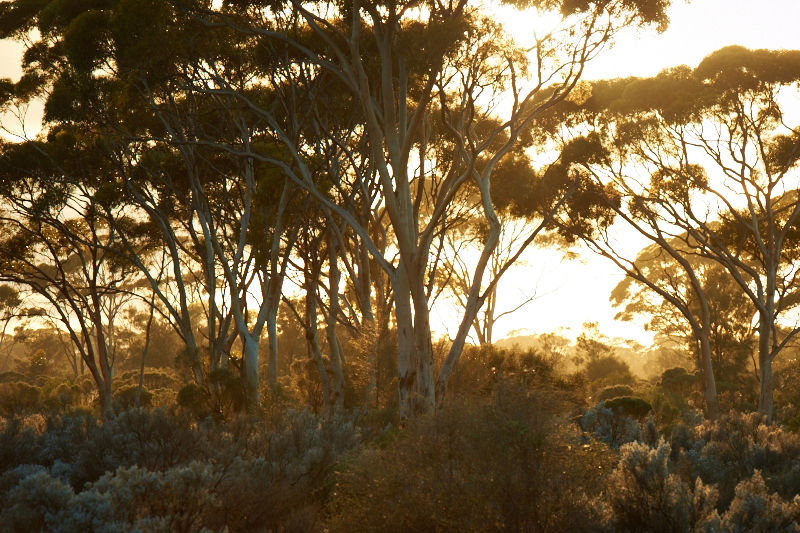 Pettersen's family was nomadic. They traveled to different areas where she was able to learn about what foods to eat based on the season and shifting weather patterns. "Through the changing of the weather we watched the behavior of flora and fauna changing. In watching the changes, we would notice when our water sources, food and additional resources were drying up. We were nomadic with a purpose," she said. In the Noongar tradition, earth experiences six seasons in contrast to the Western calendar of four: Birak (December/January), Bunuru (February/March), Djeran (April/May), Makaru (June/July), Djilba (August/September) and Kambarung (October/November).
Each seasonal shift is an opportunity to understand the changes within the land and how to use what the earth has to offer for survival. Her family believes that plants and animals are the spirits of their ancestors. "We were able to talk to them and they could talk back to us," she said. 
Growing up around trees and shrubs with medicinal properties, Pettersen learned at a young age to utilize her senses. "We would use oils to brush across our foreheads and nose to have a lingering aroma. That was part of feeling good. Smelling the wildness and raw nature just makes you feel so good and connected." Living in the bush without modern comforts such as mattresses or pillows, she and her family made their bedding out of soft foliage. "Can you imagine a pillow made out of aromatic plants? We were breathing in aroma and the heat from our body would bring the oils out."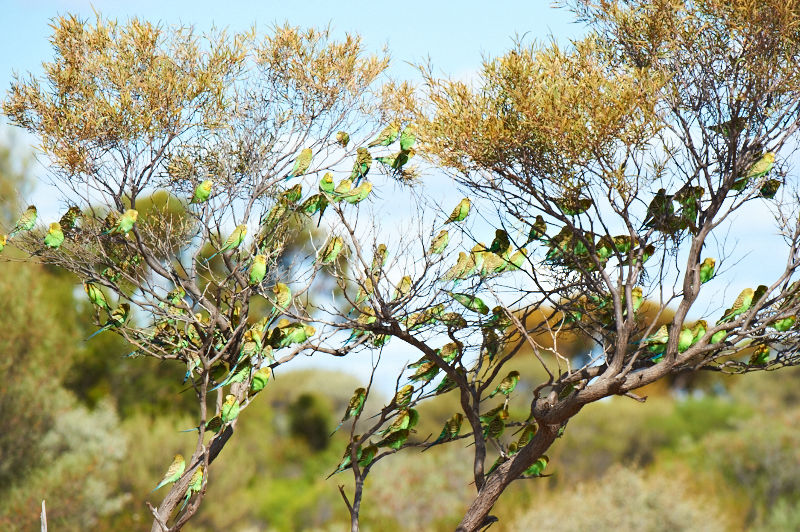 Within Aboriginal and Torres Strait Islander cultures in Australia, traditional medicine practices (TMP) encompass a holistic approach towards medicine: the balance of the physical and spiritual selves are essential in preventing illness.1 According to the National Aboriginal Health Strategy, Aboriginal health is viewed as "not just the physical well-being of the individual, but the social, emotional and cultural well-being of the whole community. This is the whole-of-life view and it also includes the cyclical concept of life-death-lifea." This perspective also coincides with many Indigenous Australian beliefs of protecting the physical and spiritual aspects of the earth, which provides unlimited abundance when used intentionally and with consideration for other life forms and future generations.
As a result of British colonization in 1788, many Indigenous Australian nations—or First Nations—have lost access to traditional practices to care for the land, which is home to some of the world's most diverse plants used in food and medicine.2 The First Nations are comprised of over 500 different groups or nations with distinctive cultures, beliefs and languages, which also shape their medicinal practices.
Protecting the physical and spiritual aspects of the earth provides unlimited abundance when used intentionally and with consideration for other life forms and future generations.
Australia is rich in a diverse range of aromatic plants including eucalyptus, sandalwood, tea tree, boronias and mints as remedies for internal and external maladies. Plants are often bruised, pounded, brewed or burnt to bring out specific active compounds from the seeds, roots, leaves and bark.3 Many of the plants found in the bush offer anti-bacterial, anti-septic and anti-inflammatory properties. A universal remedy for the Noongar People for example comes from the leaves of the pale turpentine bush (Beyeria leschenaultii), which are brewed to treat fevers and tuberculosis, among other ailments.
Some of these preparations and remedies have been studied and implemented into modern medicine. Without the knowledge acquired by Indigenous Peoples, Western medicine would certainly be limited.
The paper bark tea tree (Melaleuca alternifolia) is characterized by its slightly rubbery, white paper-like bark and weeping branches and its multifunctional uses in medicine. The leaves are also brewed in water for headaches and colds, while crushed up leaves are inhaled and used to treat respiratory infections. As a potent antiseptic in modern medicine, the tree's oil has been used since the 1920s to treat fungal infections and acne. Pettersen recalled treating a man who burnt his leg in a campfire with the bark by heating it and wrapping the wound overnight. 
Known for its woody and balsamic odor, sandalwood oil's (Santalum spicatum) uses in cosmetics are growing. In traditional Indigenous medicine, Santalum spicatum's nuts were used to relieve skin aliments and soothe aching joints. Its well-known relative, Santalum album offers anti-microbial and anti-inflammatory benefits for skin conditions such as acne and eczema due to its bioactive compounds, alpha and beta santalol.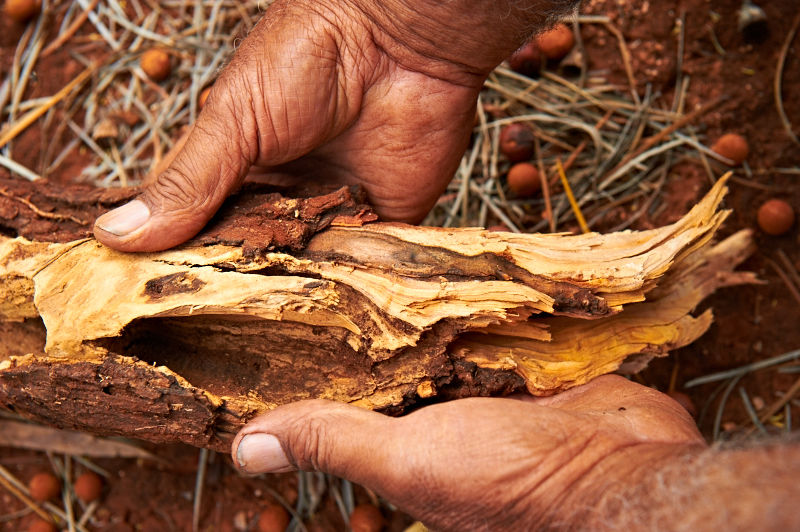 Found in the Northern Territory and Western Australia, billy goat plum (Terminalia ferdinandiana) is a fruit loaded with 50 times more vitamin C than oranges and is in great demand for food and pharmaceuticals.4 The inner bark is used to treat skin maladies such as wounds, sores and boils.
A natural steroid, the kangaroo appleb (Solanum laciniatum and Solanum aviculare) is used as a poultice on swollen joints. In modern medicine, its unripe berries are a rich source of steroids. A natural anti-inflammatory and anti-oxidant, its steroid and alkaloid compounds are used in a variety of medicinal and beauty products. 
Pycnoporus sp. is a bright orange desert mushroom. This multipurpose fungus treats ailments from arthritis and gout to sore throats, ulcers, fevers and hemorrahages. As a natural anti-bacterial, the mushroom is used in pharmaceuticals against E. coli and pneumonia.
Taking pride in her land, Pettersen believes in practicing her cultural traditions through everyday living. Whether it's crushing up leaves to smell on her morning walks or sharing her stories to her great grandchildren. "Teaching every element, experience and knowledge that I was taught at 80 years of age, I feel compelled to tell the stories of what I lived," she said.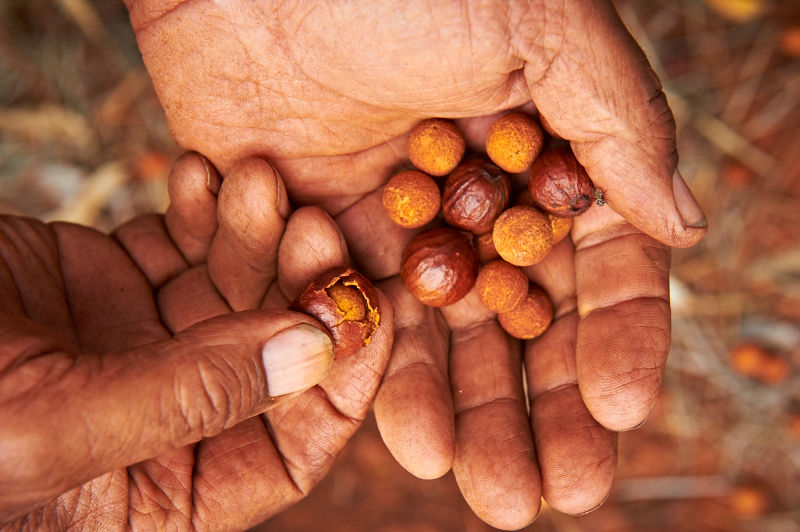 Today, Indigenous Australians make up 2.4 percent of the total Australian population. When the British arrived, the land was viewed as terra nullius, or "nobody's land." Terra nullius justified "British occupation without treaty or payment while denying Indigenous Australians' occupation and connection to the land."5 The native title doctrine was finally implemented into Australian law in 1992 creating a legal framework for native title claims by Indigenous Australians.
According to Amnesty International, more than 370 million people across 70 countries identify as Indigenous and belong to more than 5,000 different groups and speak more than 4,000 languages.6 Up until 1967, Indigenous Australians were categorized as fauna and excluded from the national census. Since then racial discrimination has been outlawed in Australia, however policies are slow if not halted in protecting land, healthcare and basic civil rights of Indigenous Peoples.
Pettersen hopes that improving government partnerships and programs like Closing-the-Gap, a policy that improves life-expectancy for Indigenous Australians will allow her People to live peacefully on protected land for generations. "We survived since time immemorial and will continue to survive while we maintain our traditions and obligations," she said, hopefully before she took a walk on her property to smell the changing seasons and the plants that continue to give her life.
This article was originally published in Volume 29, No. 6 of Aromatopia, Japan's leading journal of aromatherapy and natural medicine. We give great thanks to Carol Pettersen for sharing her wisdom and stories sacred to her and her family.