For beauty influencer Julie Quach, wellness is a daily ritual. "It's incredibly important," she says. "It's a priority - like socialising, career and family."
For savvy cosmetics consumers, looking good is no longer the holy grail. Instead, they're in pursuit of 'wellness', chasing products that meld physical, mental and spiritual benefits as an extension of their balanced lifestyles.
"Topically, Sandalwood Album is great to tone the skin and for inflammation," she says. "In terms of the mind, it has a calmative and sedative effect – I use it to help me relax and sleep. And it has that powerful scent. It's beautiful in the way it can connect your mind, body and spirit – it's a true wellness connection," she says.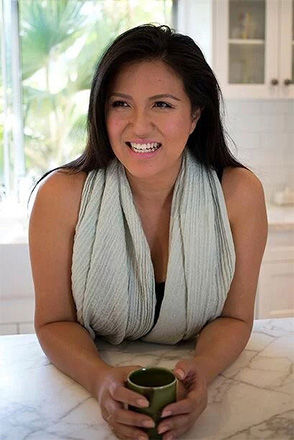 For Quach, holistic benefits like these are a must – and she's in good company. Recent market surveys have revealed millennials lead the healthy lifestyle movement, with 53% valuing wellness above work, spirituality and even friends.  But older consumers – who are more likely to have leisure time to research products – are joining the growing wave.
"I think health and wellness and the 'wellbeing' buzzword are really the new 'green' in beauty, personal care, cosmetics, fragrances, flavours and foods," says Paige Crist, associate editor at Perfumer & Flavorist magazine. "We are seeing it in every area of consumer products." 
Although the concept of wellness is nothing new – Ayurvedic medicine, for instance, has championed the harmony of mind, body and spirit for three thousand years – it's enjoying an undeniable popularity surge. Pantone even named its 2017 Colour of the Year as 'Greenery', a zesty ode to the wellness movement. In a world of urbanisation, information overload and incessant smart phone swiping, it's not difficult to see why holistic wellness products offer an appealing antidote to 21st century life.
The wellness industry is valued at a staggering $3.7 trillion, with beauty and anti-aging taking more than a quarter of the (organic, superfood-stuffed) pie, according to the Global Wellness Institute.
Quach attributes this growth in the wellness category to the internet, as consumers take the driver's seat in decision-making. "Before if you were trying to figure out what was good or bad for you, you'd probably needed to get a science journal, look up ingredients and interpret them – and without a scientific or pharmaceutical background you wouldn't have been able to make sense of it," she says. "Now websites and blogs do that for you. The beauty of this is that there's a demand from customers to know what's in their products, and the big brands have taken note. They've put more money into research and refining their products, and use better raw ingredients."
Yet it's not only health benefits consumers are questioning. As brands scramble to ride the lucrative wellness wave, scrutiny has turned to the sustainability and purity of ingredients.  "Natural continues to be a macro trend that is not going away anytime soon, if ever," says Crist. "Ingredient companies are being tasked with finding new ways to create sustainable, natural ingredients and ensure a consistent and reliable supply." For consumers like Quach, this concern is real. "I look straight to the ingredients, brand provenance, and certifications when I select a new product," she says. 
"I look straight to the ingredients, brand provenance, and certifications when I select a new product."
For Quintis, this focus on sustainability and purity of ingredients was a driving force in the company's recent rebrand. Revered but rare, thousands of years in pursuit of Indian sandalwood (Santalum album) gave rise to a black-market trade that threatened it being wiped out for good. With more than 90% of sandalwood on the market estimated to be fake, contraband and unsustainable, buyers were wary. 
"It isn't just about buying a product – I want to know the story and I want to understand how the product works. Ingredients are a big part of this," she says.